"TEXPRINT interviews, mentors and promotes the UK's most talented textile design graduates with the support of industry professionals worldwide." (Source Texprint website)
This year 7 weave designers were selected by Texprint and will be showing their work at Indigo trade Fair, Paris 19th – 21st September 2012. Their work was first showcased at Texprint London in July. See all Texprint Designers
Lisa Bloomer
Lisa Bloomers'work focuses on materials and the process of making. Specialising in weave, she also uses dye, print and freehand techniques to create bespoke fabrics for interiors and fashion. Lisa achieved an MA at the Royal College of Art in Woven Textiles.
Sustainable and ethical concerns inform her practice and she sources local fibres, such as European linen and hemp, British wool and alpaca, alongside mohair and silk, to ensure high-quality investment design. lisa.bloomer@network.rca.ac.uk

Dominique Caplan
Dominique Caplan's work is innovative and engaging, experimenting with different approaches, but always resulting in entertaining intelligently executed textile.   Having recently graduated from Central Saint Martins College of Arts and Design with a First Class (Hons) Degree in Textile Design, Dominique thrives on the technicalities of weave and the construction of a fabric utilizing both Arm and Jacquard looms.  She enjoys creating concepts and stories to base her fabrics on working with a range of media from film to 3D model making.  Extensive drawing and painting coupled with this combination of media allows her research and resulting fabrics more freedom and variation.  Her recent collections which have been exhibited at New Designers and now Texprint, London, experiment with unusual contrasting colour ways.  Her innovative and unique research procures a strong design signature which is communicated throughout her work.  Most recently Dominique's collection originated from the 'End Game' a computer game dual reality created by her to generate fabrics for quirky menswear.   From beginning to end Dominique's collections are surprising, humorous and energetic. dominiquecaplan999@hotmail.com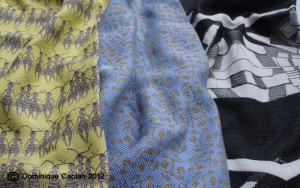 Sophia Fenlon
Intrigued by the weird and the wonderful, Sophia's collections delve into the exploration of extreme textural opposites, intricate extra weft patterning and masses of vibrant colour.  Enhanced by a love of illustration and styling a strong sense of designer identity transcends throughout. Specialising in Woven Textile Design for Fashion, Sophia holds a first class BA (Hons) degree from the University of Brighton with graduate collection sponsorship from luxury Paris fashion house Hermes. s.e.fenlon@hotmail.co.uk
Alix Massieux
Alix graduated with a fashion degree in women's wear in 2008 from La Chambre Syndicale de la Couture Parisienne in Paris. She then decided to broaden her skills and knowledge by attending Central Saint Martins College of Art and Design in order to create fabrics with a fashion application.
Her work is vibrant and exciting, exploring the relationship between material and colour and emphasizes attention to detail with hand stitch embroidery and finishing techniques. In her research she utilises similar techniques, experimenting with painting and collage.
Her visualisations often portray simply cut fashion pieces with exquisite and precious fabric.
As a designer with a background in both fashion and textiles, she considers the fabric as important as the garment and she intends to explore this relationship further in her future career.  alix.massieux@gmail.com

Sophie Reeves
Sophie Reeves studied at the University of Brighton, graduating with first class honours in 2012. Her collection drew upon the freeform geometry of the Russian Constructivists, finding a parallel with the shapes, colours & textures of crystals in nature.  It is this visual chemistry to be found in mechanised structure & natural formation that defines her practice to date. sophieelizabethreeves@gmail.com